A Process Focussed Arts Centre: Furniture and Paint
A Process Focussed Arts Centre: Furniture and Paint
Taking their inspiration from Reggio Emilia and other child directed early years curricula, many classrooms are modeling their creative arts learning areas around an atelier approach.
In this post we'll offer some suggestions of furnishings and materials that may compliment a process focussed rather than a product focussed art centre. 
Looking for some introductory information on this approach? At the end of this post you'll find a few links.
Process focus
In an art centre that is process focused children explore creatively to gain a rich understanding of material, its properties and behaviour.  With open ended invitations, rather than step-by-step instructions, children use practical tools and quality media that is either used in the everyday "adult world" or closely mirrors them.  
Organization, durability, flexibility and quality are all key to successfully inviting children to use their own faculties to explore artistic expression and the elements of design.
In the purpose built Creativity Corner by Community Playthings organization and separation of materials is easy for the teacher allowing for maximum student independence.
Both the clear bins and baskets -- whichever you chose for your totes -- come with protected label holders prompting cleanup, storage and resetting-of-the-space routines.
The Multitable table (as pictured above) can be raised and lowered to different heights, offering flexibility to accommodate different ages for comfortable work. Hardwood finish and durable UV sealed table top can withstand repeated forceful cleaning, defeating stains. All pieces can be purchased individually or added to the other Roomscapes system furnishings.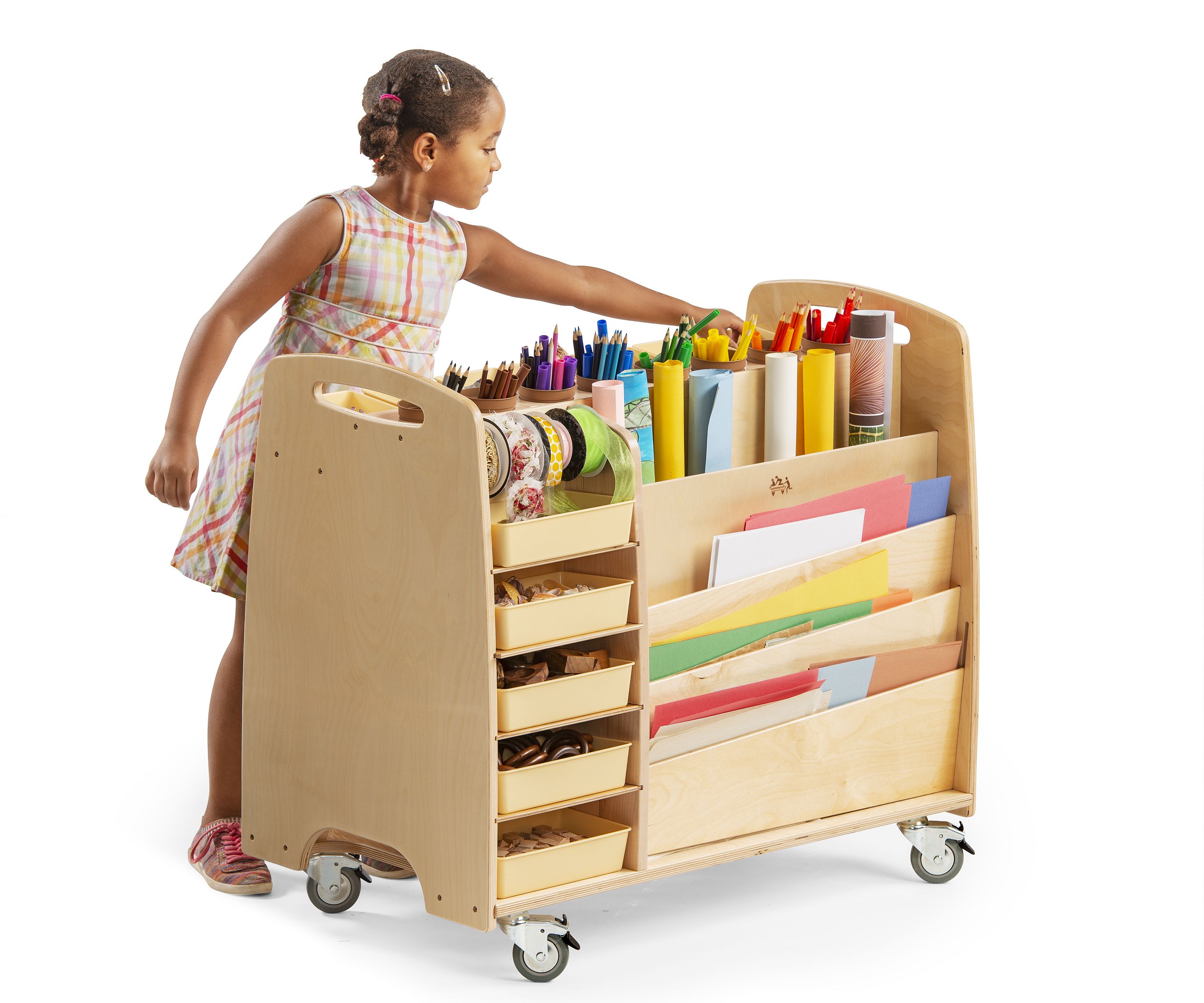 The cleverly designed compartments and totes of the Help Yourself Art Trolleys deliver a mobile solution, when new materials are to be introduced or, again, to best accommodate needs of different age groups.
Engaging agency through creativity
"When children are speaking the language of art, they are producers rather than consumers of knowledge" Ann Pelo
Real, quality materials inspire the user, for agency in creativity and encouraging the use of real tools.
Quality acrylics and temperas make a difference. Chose media that are built on true colour pigments such as our B&B and Corello lines.
Unlike many other classroom paints, the primary colour paints allow for satisfying colour mixing, so that colour theory can be explored. These non-toxic colours dry fast to a waterproof, flexible finish that doesn't yellow over time.
Helpful Links
Artists at the Centre, Hamilton Ontario
www.artistsatthecentre.ca/project.html
 "5 Examples of Reggio Emilia Activities You'll Find at Riverside Magnet School"
www.goodwin.edu/enews/examples-of-reggio-emilia-activities/
"The Language of Art in Reggio-Inspired Classrooms"
www.thecompassschool.com/blog/the-language-of-art-in-reggio-inspired-classrooms / 
With a chart "PROCESS-FOCUSED ART VS PRODUCT-FOCUSED ART" from "How Process Art Experiences Support Preschoolers". By Laurel Bongiorno, PhD and Dean of the Division of Education and Human Studies at Champlain College, https://www.champlain.edu/academics/our-faculty/bongiorno-laurel