Coding to Learn: Coding's Cross-Curricular Connections
Coding to Learn: Coding's Cross-Curricular Connections
Coding doesn't just have to be taught in isolation.  It is an effective learning activity and a means of student expression for multiple curricular areas in the early years including literacy, math and even social studies.
In our first post in this series we looked at what we mean by coding:
identifying and defining a goal
breaking down a task into a sequence of actions
trying out different options
identifying errors
correcting
trying again until successful
doing the above, in teams
Here are a few examples of learning activities that use coding to bring students to work together in teams to address curricular goals – "coding to learn" as well as "learning-to-code."
Cubetto
Cubetto is particularly well suited for use in early years coding-to-learn curricular activities.  Very open-ended in its easy to decorate design, Cubetto's screen free interface is ideal for small groups/teams, requires no literacy pre-requisites and minimal memory load from students.  
Instead of buttons, children place simple shapes into a wooden command board, to send Cubetto on his/her (Cubetto is gender neutral too) journey.  But the included canvas map is blank on one side, ready to customize. You can also use a tablecloth and create a map right on that.
You can find a wealth of free lesson plans for Cubetto on Primo Toys, the manufacturer's website.  https://www.primotoys.com/education/lesson-plans/ .  Keep in mind that because Cubetto's manufacturer is based in the UK, these lesson plans align to and use UK education terminology - but you'll find them a great resource, nonetheless.
Math
Put numbers on a map and turn it into a giant number grid to explore order, multiplication, and addition with a coding robot.  Or use coins and other number representations to work on value. 
Use rectangular or Cartesian coordinate systems for geometry.  You can then can add numbers to a Cubetto map and work through a number grid.
To see more instructional ideas, see this blog post by Jeannine Freeman an Instructional Technology Specialist for Fort Sam Houston Independent School District in San Antonio, Texas. (https://www.primotoys.com/blog/2017/08/integrate-cubetto-in-your-curriculum/  Picture below from this blog post.)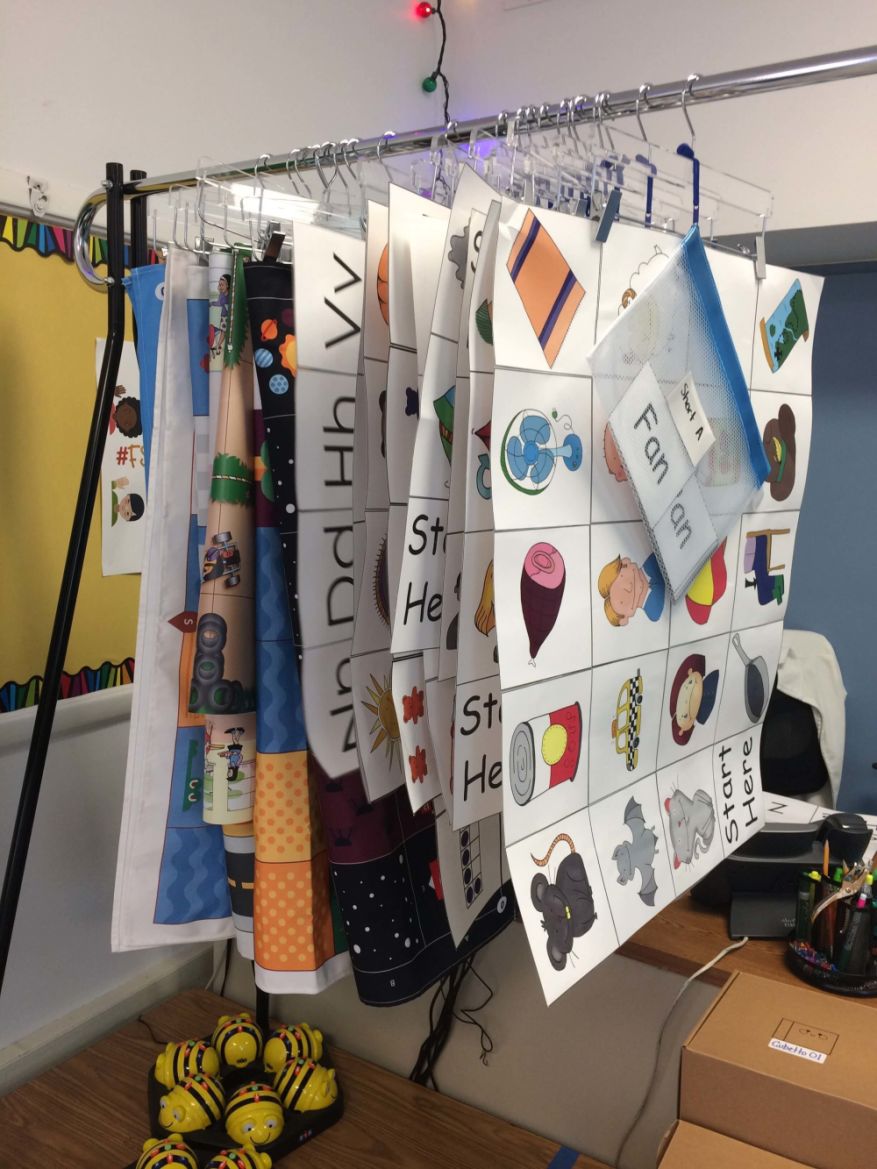 Literacy
Cubetto comes with a story and there are other story/map sets you can add to it.  But this is just a starting point. 
Students can map out stories they read in class, and decorate Cubetto and the map to match. 
Map and follow narratives as a journey, in pairs or individually.  The books The Colors of Us and Down the Road from our Celebrate Diversity Bookset both involve journeys that are perfect for mapping with Cubetto or other coding robots like our STEM Robot Mouse.  While Red is a Dragon is an exploration of colour, it can also be extended in coding games.  All the while engaging students in exploring ideas of family identity, values and responsibilities.
Social Studies
Create a map of an environment (school, school grounds, neighbourhood) and simulate a journey with various classroom objects or with a coding robot Cubetto or the STEM Robot Mouse. Take the real journey following precise directions.
Or use a picture map or other age appropriate maps to provoke exploration of specific region, country or biome.
Science
Using a marble run or a water run (see the Outlast Cascade or Blocks) or knock-down dominoes, build 3-D structures to explore gravity, momentum, friction, inclines, angles of incidence and reflection. The problem solving, correcting, and retrials of marble runs also have all the fundamentals of coding.
The Music Motion marble run set also has endless possibilities for building and rebuilding the marble maze, using creativity, fixing errors, and an exciting added bonus of creating music in the process! The Magnetic Marble Run is another great way to use the skills of coding while taking advantage of vertical space. Students can follow the marble maze cards or create and code through their own maze.